Riverside development improves health
A new BlueHealth study has found that riverside parks could lead to improvements in public health and wellbeing.
Analysing data from 1,000 participants, our team from the Barcelona Institute for Global Health (ISGlobal) assessed the health impacts of regeneration along the Besòs river in Barcelona, Spain.
They compiled information on the activities performed in the park, the number of people who use the area, and the impacts on health and health-related economic costs.
The team's results showed that nearly 6,000 adults use the park each day and suggest that visitors' increased physical activity could prevent up to seven deaths and save 23 million euros in public health spending each year.
Cristina Vert, ISGlobal researcher and lead author of the study, explains "The Besós riverside park was developed mainly to improve the area's ecology, but our evaluation shows the intervention is also creating significant health benefits through the promotion of physical activity. Our research supports growing evidence for the health benefits of green and blue spaces, since the park combines both types of environment."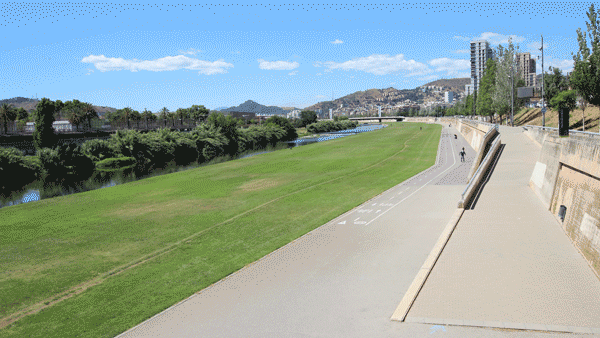 Besós riverside park.
The park is a public space along the last nine kilometres of the river's course, spanning the cities of Barcelona, Santa Coloma de Gramenet and Sant Adrià de Besòs. With a surface of 22 hectares, it is one of the largest public green spaces in Barcelona. Cycling is the most popular activity undertaken, with almost half of users riding their bikes through the area.
Mark Nieuwenhuijsen, Director of the Urban Planning, Environment and Health Initiative at ISGlobal said "The results show the impact of urban planning on public health: we should prioritize the regeneration of natural spaces in cities and facilitate their accessibility to maintain and even increase their use."