As we countdown to this year's World Water Week in Stockholm, I wanted to give a flavour of the kind of topics we'll be discussing in our session and why I think this is an important area of research.
I will be presenting an overview of three overlapping projects at the event; BlueHealth, SOPHIE and INHERIT. As neatly summarised by our partners at RIVM, each of these projects is exploring how environmental policies can be used to boost public health. They are also interested in how we minimise health inequalities, and do so in a way which can bring wider socio-economic benefits to populations.
But can these projects – which focus on interventions in varying locations and populations – prescribe approaches which will be effective in different countries across both Europe and the wider world?
This kind of question is exactly the sort of issue we'll be tackling in our session and I'll have a go at answering it now. To begin, let's consider the practices and policies each project is tackling.
BlueHealth is researching improvements to urban blue space environments. One example is a city beach in the UK, where extensive redevelopment work has been conducted. The team is performing rigorous data collection before and after this kind of building work takes place, to understand its impact on health and wellbeing.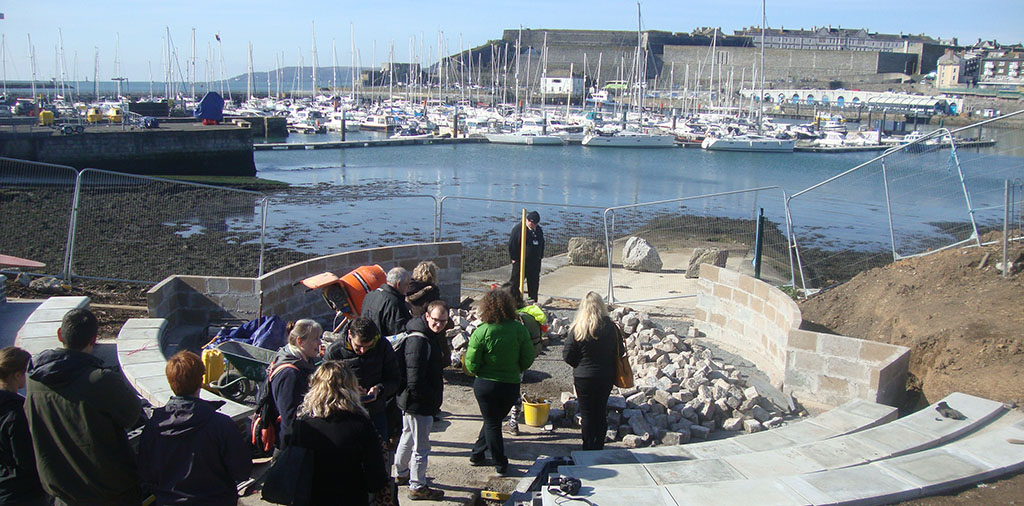 Building work underway at our intervention site in the UK
SOPHIE is taking a broader picture, reviewing EU policies that relate to either the marine environment or human health and wellbeing. Its hoping to to assess the current links, gaps, and opportunities in policy development, and recommend ways in which these directives could become more integrated.
On the other hand, INHERIT has created a database of "promising practices" for behaviour change. The research team behind this want to understand how these types of policies might 'nudge' populations toward environmental sustainability, better health and lower health inequalities.
So could these different approaches be fused to create a policy-maker 'cheat sheet'? My view is that strategies and will have to be tailored for each location. For example, weather and climate can vary a lot in the EU, with inland waters freezing over in northern climes in winter, yet remaining accessible through most of southern Europe.
There may also be cultural factors which affect the relationship between natural environments and human health and wellbeing, such as differences in attitudes towards wildlife, food production and industry.
However, if such differences are considered (and tools from these projects – such as BlueHealth's Decision Support Tool – may help with this) then I believe policies and interventions that promote interactions with nature have the potential to benefit everyone across Europe.
We'll be considering and debating a series of similar questions in our session in Stockholm on Tuesday 28th August. If you are interested in attending World Water Week, you can find out more and sign up for our session here.