Many people have different reasons for feeling connected to nature. How might scientists interpret these experiences and use them to improve understanding of the links between environments and health?
One bright May morning members of the Health and Environment Public Engagement group gathered to tackle this daunting question.
Taking the My BlueHealth project into the phase of data analysis, they spent a day 'coding' and 'clustering' with qualitative researchers Conny Guell, Ruth Garside and Kath Maguire.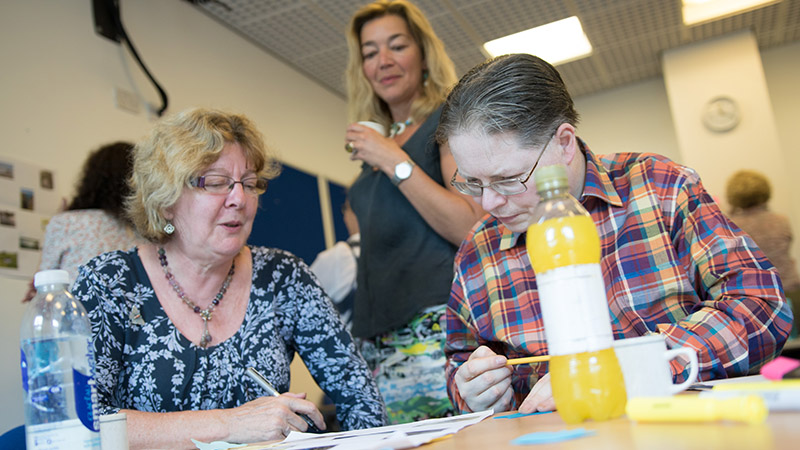 HEPE members discuss the data collected over the past year
Why My BlueHealth?
At the start of BlueHealth the research team talked about collecting stories and images from members of the public which express relationships with 'Blue' public spaces. So we were delighted when the Health and Environment Public Engagement group (HEPE for short) proposed doing their own research about what 'BlueSpace' means to them.
HEPE worked with researchers to design a qualitative study; research which explores the meaning of words, images and activities.
Collecting contributions
Over the past year HEPE members have been contributing their own feelings about 'BlueSpace' and they have done this in different ways.
Some people wrote their own stories or poems, some told their stories to a researcher who typed it up. HEPE members also contributed pictures and video of oceans, rivers, lakes, streams and ponds.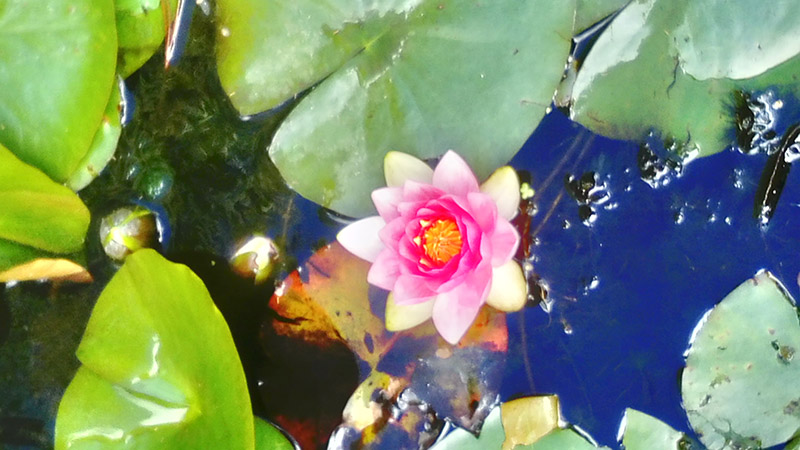 Am image taken by a My BlueHealth participant
Analysis workshop
The workshop began with the group talking about the pictures and labelling them with ideas, comments and questions, using sticky notes.
Next HEPE worked in pairs. Each pair had a different set of two texts, these were stories or groups of poems. They read these through slowly, highlighting important words or phrases. Key words that could represent clusters of highlighted words were then agreed. In qualitative analysis this is called 'coding'.
Each pair then looked at another text to see if the same 'codes' worked, or if some new codes were needed. Any new codes were taken back to the first text, to see if they appeared there.
After lunch, partners swapped around to compare codes that had been produced for different texts.
Finally the whole group worked together to discuss what patterns and themes were starting to appear. The questions asked were:
What things are similar in different texts and pictures?
What things are very dissimilar?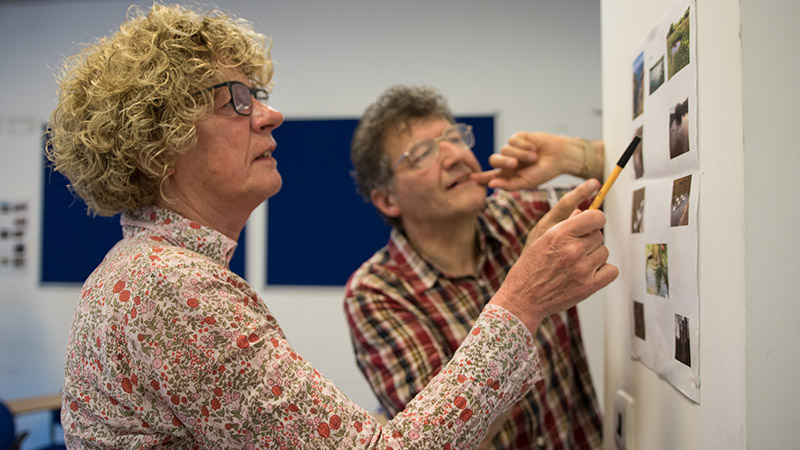 HEPE members discuss the characteristics of images from participants
Workshop highlights
Feedback from both researchers and HEPE members was overwhelmingly positive.
Researchers were impressed with the enthusiasm of the group and how hard they were willing to work at these complex tasks. The group's ability to step from the concrete subjects of texts to their more conceptual meanings was remarkable.
HEPE members valued being included in the process of data analysis. They also fed back that working in different pairs as well as whole group helped to build and strengthen relationships within the group.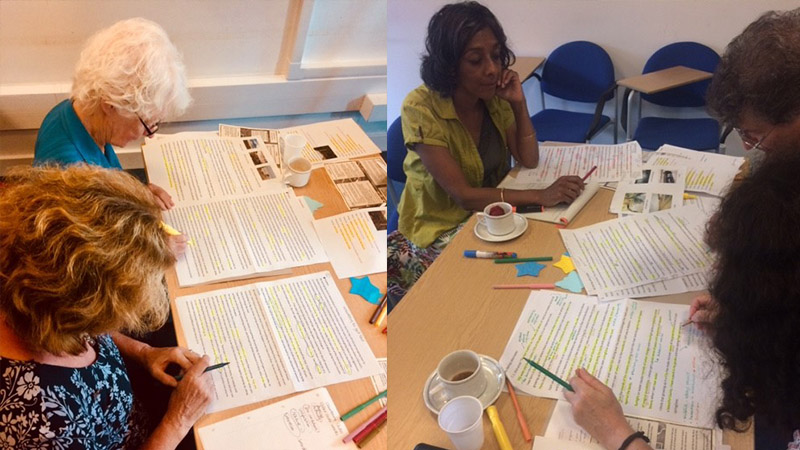 HEPE members coding written material
What next?
The next step is for researchers and HEPE members to continue coding all the contributions to the project and to write about the findings. At first this will be done by email and by post, but we expect to have another workshop about interpreting our findings in a few months' time.
Into the future HEPE already have many creative ideas about directions in which they would like to develop My BlueHealth – so watch this space.