First BlueHealth annual meeting
BlueHealth hosted its kick-off meeting from 10th to 13th April 2016, in the beautiful coastal setting of Bedruthan, Cornwall, UK.
Participants from all nine partner institutions met to discuss the project, refining aims and methods, and designing specific projects around the seven research areas of BlueHealth: understanding the evidence, community interventions, virtual realities, landscape and urban planning, future scenarios, translating the evidence, and innovation and engagement.
The meeting opened with an introduction by the Project Coordinator, Prof Lora E Fleming. The first day comprised an overview of the various projects that constitute the BlueHealth programme of research. Participants learned from representatives of the broad range of disciplines represented in the project, on subjects as diverse as environmental psychology, virtual reality and stakeholder engagement.
Reviews were presented of individual community-level interventions and scenarios, two components of the project that are highly interlinked. A hands-on session developing the initial scope of the scenarios within the context of specific interventions paved the way towards further cooperation following the meeting.
A website and graphic design company, fffunction, held an interactive session with all project participants in which the project identity, logo and website design were collectively worked on.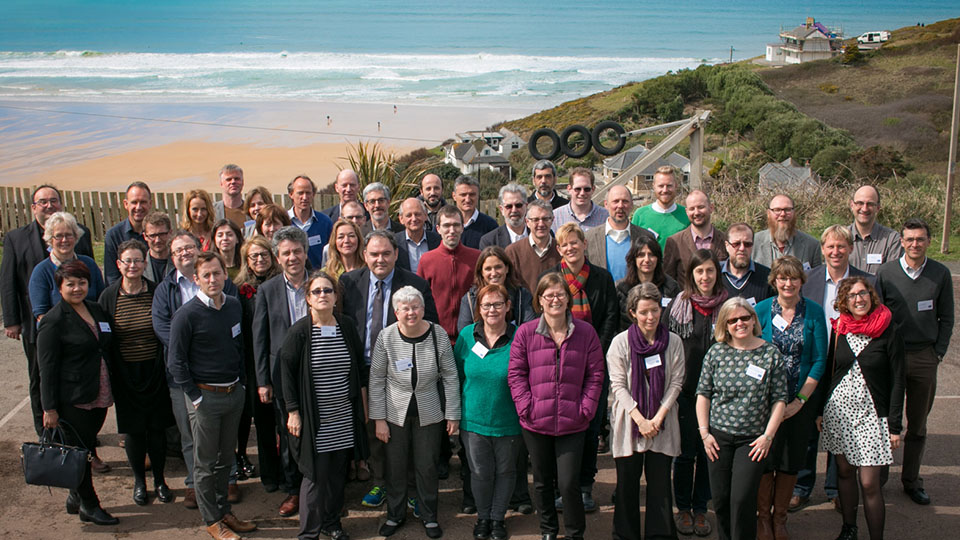 The first meeting of the BlueHealth External Advisory Board (EAB) also took place at the meeting, on the 12th April. The EAB plays a key role in guiding the strategic direction of the BlueHealth research programme. From the use of common metrics across the project to ensure integration to making specific recommendations on ethical issues relating to individual projects, the input of the EAB is crucial to ensuring coherence, transparency and clarity in all BlueHealth research.
The whole BlueHealth Consortium gratefully learned from the experience of Ann Uustalu (EC Project Officer) and Maria Sáenz (EC Finance Officer), both of whom attended the meeting.
The next annual project meeting will take place between the 30th and 31st March 2017 in Barcelona.